In his new book, Armies of Enablers: Survivor Stories of Complicity and Betrayal in Sexual Assaults, Professor Amos N. Guiora shares the stories of sexual assault Survivors from USA Gymnastics, Michigan State University, Penn State University, The Ohio State University, and the Catholic Church, focusing on how the institutions and individuals allowed the abuse to happen.
In Good Faith Foundation held an online panel discussion to launch Armies of Enablers for an Australian audience on Friday 5 March. You can watch the video online here: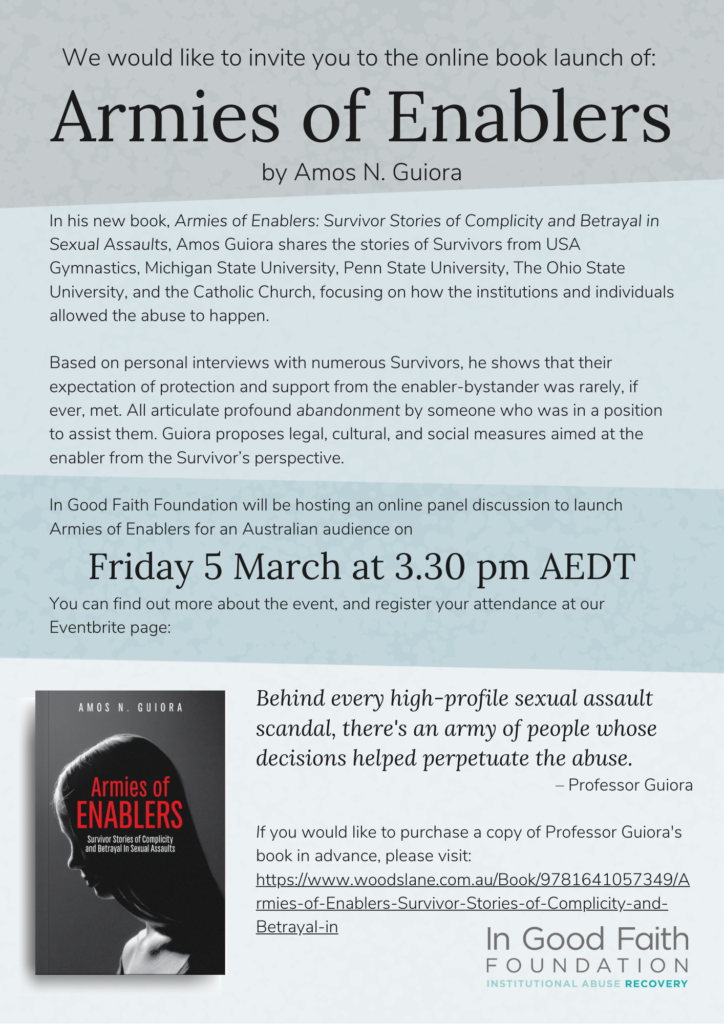 About the book
Behind every high-profile sexual assault scandal, there's an army of people whose decisions helped perpetuate the abuse.
Based on personal interviews with numerous Survivors, Professor Guiora shows that their expectation of protection and support from the enabler-bystander was rarely, if ever, met. All articulate profound abandonment by someone who was in a position to assist them. Guiora proposes legal, cultural, and social measures aimed at the enabler from the Survivor's perspective. The proposed changes will address both broader society and specific communities including higher education, elite athletics, sports organizations, religious institutions, law enforcement, the entertainment industry, and elected officials.Guiora is committed to bringing the Survivors' voices to as many audiences as possible and to work with a wide range of groups-organizations-institutions addressing sexual assault Survivors, domestic violence, and abuse to ensure that what happened to them does not occur again.
About the author
Amos N. Guiora is Professor of Law at the S.J. Quinney College of Law at the University of Utah. He is actively involved in bystander legislation efforts in Utah and other states. He has published extensively both in the United States and Europe on issues related to national security, limits of interrogation, religion and terrorism, the limits of power, multiculturalism, and human rights.
His previous books include Populist and Islamist Challenges for International Law (2019); Earl Warren, Ernesto Miranda and Terrorism (2018); The Crime of Complicity: The Bystander in the Holocaust (2017); Tolerating Intolerance: The Price of Protecting Extremism (2014); and Freedom from Religion: Rights and National Security (2009).
IGFF is committed to achieving justice for Survivors of institutional abuse. We acknowledge the strength, courage and sacrifices of all on the journey to recovery.